Companies that Suck | TJ's Blog
U-haul Hitch Installation Sucks
«Back
U-haul Hitch Installation Sucks - Review
U-Haul, the moving truck rental company also provides hitch installation services at many of their rental stations. A Hitch will enable you tow a trailer or, in my case, attach a bicycle rack to the back of your car. However, the people they hire to do the installs seem to be inept and incompetent. I would think twice about trusting my car with again. I used their services in 2007 to get a hitch installed on my 2007 Honda Accord when it was still fairly new and was soon stuck on the side of the highway with a flat tire and then realized that my donut was also flat. It was not until recently when I was researching getting a hitch on my new car that I discovered that U-haul was required to drill holes into the bottom of my trunk pan when installing my hitch. The installer failed to remove by spare tire and drilled a hole directly into it. U-haul provides simple instructions for installations with only 5 steps but my installer failed to follow step 1. From searching on the web apparently there is many other cases where this has happened to others as well. See the simple U-haul installation instructions below that were not followed in my case: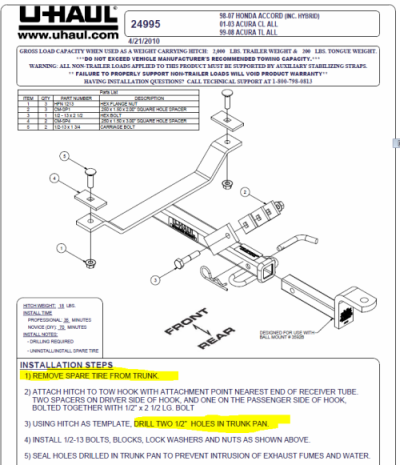 I recently tweeted about my u-haul experience via twitter and got a response by @uhaul_cares but once I provided the information they requested to verify my install they stopped caring and were unresponsive and did not even offer an apology.

By TJ on Monday June 2, 2014 @ 03:52 PM | Views [11510]
Comments (0)
Note: Comments with profanity or offensive language are deleted on a continuous basis without notice.