«Back
Every tech blog has Gmail goggles post
Posted by TJ on Monday October 20, 2008 @ 01:43 PM

[Tags: internet, technology, google]


E
very tech blog has had a Google Goggles post. Now I don't think many would consider this a tech blog and I am late to the game but here it is:
If you haven't heard Gmail Goggles prevents sending regrettable drunk emails by requiring you to take a quiz before sending emails during set times.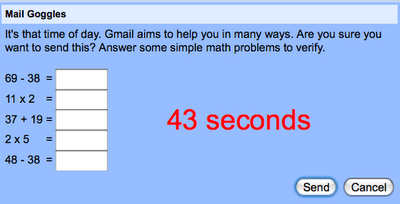 Now this is pretty clever. Who would of thought the email would have such historical advances in 2008?
I think that Google added this feature as more as gimmick and publicity stunt than usefulness. But what I wonder is why instead of a quiz why can't they add an "unsend" button to emails. I understand that they are unable to retrieve emails that have already been sent, however, they could hold the emails for a set period of time (set by user) on their servers before sending them. Or what's stopping you from being able to retrieve an email sent to another gmail user that hasn't been read? Has this feature been considered?
Comments with offensive language will be automatically deleted within 24 hours.