«Back
The answer to who really had advance warning of the September 11 attacks...
Posted by TJ on Monday October 15, 2007 @ 04:36 PM

[Tags: politics, news, opinion]


E
veryone is pointing fingures at the government, how they should have been able to prevent the attacks and had information beforehand that could of helped prevent the attacks on America.
On the other note what we learn in economics about the stock markets is you can not use currents news to base your decision on whether to buy or sells stocks becuase that news is already reflected in the price of stock.
If you look at a graph of the stock market 2-3 weeks before the September 11, 2001 you will see a gradial decline the market. Starting on August 24, 2001 and decreasing all the way through September 21, 2001. We all know why the stocks decreased after September 11, 2001 but made the stocks decrease before the attacks? Was a steep decline bound to happen anyway? Or, did investors have advance knowledge of these attacks?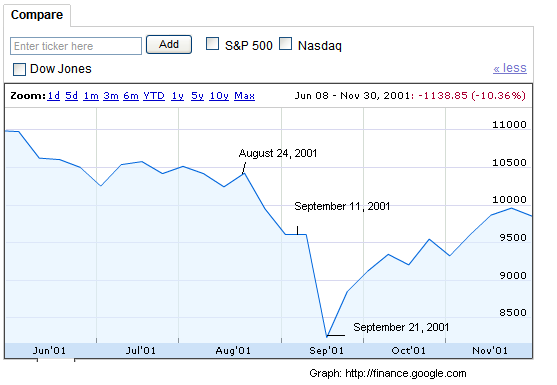 Just something to think about next time the market is in a gradial decline.
Comments with offensive language will be automatically deleted within 24 hours.